Posted: 23 April 2012
Presenting our new Cannabis App
Welcome to #CannabisWeek!
Today we are launching our unique and exclusive 'cannabis app' for all smart phones and with cannabis being the most common illicit drug used around the world- what better way to begin?
drugs meter was launched last month and since then over 3,000 people have taken the drugs meter, bringing our comparison database to over 15,000 people! Like all drugs meters, the cannabis app provides you with immediate, objective and personalised feedback and lets you compare your cannabis use with thousands of other current cannabis users. So far around 5,000 cannabis users have examined their use against others on drugs meter….and wouldn't it be interesting for you to anonymously compare your cannabis use to others within the community- well now you can.
drugs meter allows you to work out how much you smoke, and if you don't know we have pictures- we spent 9 hours in a lab rolling and photographing joints, just so you can have a more 'visual perspective'. It allows you to judge how much you spend in a year (and your lifetime) and adjust your use based on your unique personal characteristics. There are safer using tips, like trying a vaporizer as an alternative to spliffs, and if you want to, you can assess the impact of your use on your overall well-being.
drugs meter is not funded by any government. It places no judgment. It does not tell a person what to do. So if you are reading this, smoke dope or know someone who does, here's what to do:
-From a smart phone- go to www.drugsmeter.com/
– click on the cannabis icon for the cannabis
– A pop-up will appear asking if you want to add it to your home screen as an app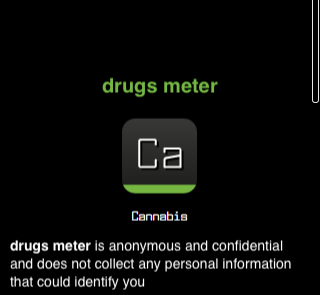 -Click Yes and download it directly to your smart phone
It's that simple!!
We have 8 more apps coming in the next month- so please, share, like, follow and tweet (@drugsmeter) but more importantly- see how you measure up!
[If you would like promotional flyers, stickers and cards or a icon with embedded link for your website please contact me at adam@globaldrugsurvey.com]