Related Content 1
About
"Mapping drug use around the world"
Global Drug Survey (GDS) is the independent international centre of expertise in qualitative and quantitative, non-judgmental, informative and confidential drug surveys.
GDS prides itself on being an innovative, wellbeing-focused organisation, established to analyse and collate first-hand public responses regarding illicit and controlled drugs, drug usage and drug trends.
Our philosophy is to provide individuals with an opportunity to freely and securely participate in unprejudiced, uncoerced, independent studies of illicit and controlled drugs and drug usage and to provide participants with immediate feedback based upon their responses.
GDS is the only organisation offering this unique experience, and further believes that by offering this unfettered space we can move the understanding of drugs and the associated societal drug trends forward. This in turn will assist all sections of society – professionals and the public alike – to benefit from the published results whilst allowing professional groups the ability to provide support, information, education and health services based upon geographical evidence data.
Our priorities are:
- The protection and advancement of public health through education and research.
- Carrying out explorative private and public surveys and inquiries into individual and societal illicit and controlled drug use, examining causal factors such as poverty and culture.
- Providing educational and informational content to advance public knowledge and reduce associated harms with drug use.
- Contributing to empirical drug policy and human rights strategies informing the public, professionals and Governments alike with development, usage and trends.
Global Drug Survey is an independent self-funded data mapping exchange hub founded by Dr Adam R Winstock, a Consultant Addiction Psychiatrist and researcher based in London. His role in GDS is totally independent of his employment within the NHS and his views expressed as part of GDS have nothing to do with his employers or his academic affiliate organisation (beyond the fact that ethics approval was obtained through his local research ethics committee).
If you want to tell us what you think or join us, please contact us.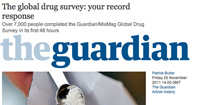 Case studies
We've been appointed by various industries from media to education, see how our work helped them.
Learn more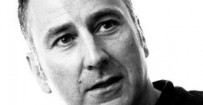 Drug Experts
Our drug experts ensure that we create our surveys and analyse the data in the most informed way possible.